Years ago, the fearsome pirate king Gol D. Roger was executed, leaving a huge pile of treasure and the famous "One Piece" behind. Whoever claims the "One Piece" will be named the new pirate king. Monkey D. Luffy, a boy who consumed one of the "Devil's Fruits", has it in his head that he'll follow in the footsteps of his idol, the pirate Shanks, and find the One Piece. It helps, of course, that his body has the properties of rubber and he's surrounded by a bevy of skilled fighters and thieves to help him along the way. Monkey D. Luffy brings a bunch of his crew followed by, Roronoa Zoro, Nami, Usopp, Sanji, Tony-Tony Chopper, Nico Robin, Franky, and Brook. They will do anything to get the One Piece and become King of the Pirates!
Genre:
Stars:
Production:
Release Date: 1999-10-20
Status: Returning Series
First Air Time: 1999-10-20
Last Air Time: 2019-07-21
Total Episodes: 900
Original Title:
ワンピース
8.8 / 10 / 105 Ratings
7.6 / 10 / 253
Popularity: 132
8.6 / 10 / 56,646
ID:
tt0388629
Country:

JP

Language:

Ja

Runtime:

25
(S021E0890) Previous Episode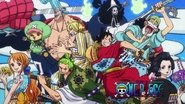 Aired On 2019-06-23
Sorry, we don't have a plot summary for this eposide yet.
Next Episode (S021E0891)
Airs On 2019-07-30
After reading about the Levely in the newspaper, Luffy's group finds themselves in the perilous sea surrounding Wano Country, which leads to the bottom of a waterfall. Luffy uses the giant carp swimming around them to pull the crew and ship up the waterfall, but they end up sailing into a whirlpool at the top, causing Luffy to be submerged.
Seasons List